Hardy Boys Complete Series Set, Books 1-66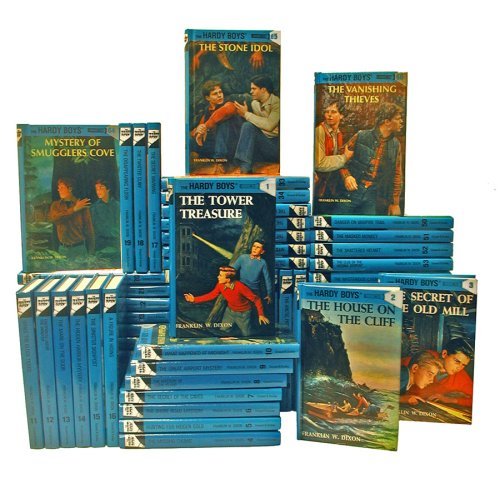 The Penguin Hardy Boys Complete Set: Available for the first time in one complete collection only at Amazon.com.
The Hardy Boys have been America's favorite detective duo for over 75 years. Now, for the first time, you can purchase all sixty-six classic Hardy Boys titles in one complete set!
#1: The Tower Treasure
#2: The House on the Cliff
#3: The Secret of the Old Mill
#4: The Missing Chums
#5: Hunting for Hidden Gold
#6: The Shore Road Mystery
#7: The Secret of the Caves
#8: The Mystery of Cabin Island
#9: The Great Airport Mystery
#10: What Happened at Midnight
#11: While the Clock Ticked
#12: Footprints Under the Window
#13: The Mark on the Door
#14: The Hidden Harbor Mystery
#15: The Sinister Signpost
#16: A Figure in Hiding
#17: The Secret Warning
#18: The Twisted Claw
#19: The Disappearing Floor
#20: Mystery of the Flying Express
#21: The Clue of the Broken Blade
#22: The Flickering Torch Mystery
#23: The Melted Coins
#24: The Short-Wave Mystery
#25: The Secret Panel
#26: The Phantom Freighter
#27: The Secret of Skull Mountain
#28: The Sign of the Crooked Arrow
#29: The Secret of the Lost Tunnel
#30: The Wailing Siren Mystery
#31: The Secret of Wildcat Swamp
#32: The Crisscross Shadow
#33: The Yellow Feather Mystery
#34: The Hooded Hawk Mystery
#35: The Clue in the Embers
#36: The Secret of Pirates' Hill
#37: The Ghost at Skeleton Rock
#38: Mystery at Devil's Paw
#39: The Mystery of the Chinese Junk
#40: Mystery of the Desert Giant
#41: The Clue of the Screeching Owl
#42: The Viking Symbol Mystery
#43: The Mystery of the Aztec Warrior
#44: The Haunted Fort
#45: The Mystery of the Spiral Bridge
#46: The Secret Agent on Flight 101
#47: Mystery of the Whale Tattoo
#48: The Arctic Patrol Mystery
#49: The Bombay Boomerang
#50: Danger on Vampire Trail
#51: The Masked Monkey
#52: The Shattered Helmet
#53: The Clue of the Hissing Serpent
#54: The Mysterious Caravan
#55: The Witchmaster's Key
#56: The Jungle Pyramid
#57: The Firebird Rocket
#58: The Sting of the Scorpion
#59: Night of the Werewolf
#60: Mystery of the Samurai Sword
#61: The Pentagon Spy
#62: The Apeman's Secret
#63: The Mummy Case
#64: Mystery of Smuggler's Cove
#65: The Stone Idol
#66: The Vanishing Thieves
Buy It at:
Amazon
Collections | Report This Post |